Hello again. Well after an
extended
weekend home, I am back in Troy. Man was I exhausted yesterday! I had to be up by 4:30am to get to the airport on time for a 7:30am flight. I came back to the apartment last night and crashed! But I did sneak in an episode of
Rebelde
. Our anniversary weekend was lovely. We ended up having dinner at
Café Bolero
, and just spending time together. It was so nice. Back to reality...I'm here...again.

FYI...just found out the Fangoria show was moved to SUNDAY OCT 16 and not Sat. the 15th as previously announced. I was told the ticekts go on sale September 3! Woo hoo! So who's coming?


Today is Belinda Carlisle's birthday! Let us celebrate! I will listen to my Babe-mix on my ipod :)


Have you seen this man? Holy balls is he hot???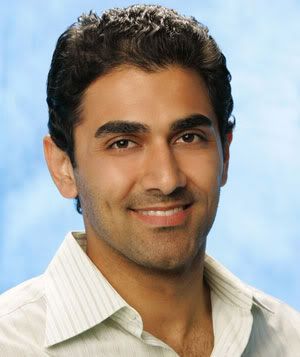 Rob was going on and on about how hot this guy was so I had to see for myself. His name is Kaysar Ridha and he is drop dead gorgeous! He is a contestant on Big Brother 6 (USA). Check out this page for more of this man hunk!


So a couple of people were asking about Byte...


Out of curiosity I asked my mom to pick this up for me on her recent excursion to Mexico...I can't get enough of it! They are a dance duo from Mexico City and their first album is a collection of covers of rock en español songs from the 80s. They've covered Caifanes, Soda Stereo, Enanitos Verdes, Duncan Dhu, Nacha Pop, etc.. In my former life I was a hardcore rockero and a rock en español snob. But I have to say I really like the way they did them. I think my favorite has to be their cover of Lucha de gigantes or Nada personal. While my Milwaukee Sister can't get enough of the new Belanova (I like it too)...I am just digging Byte more right now. Their next album will be all original material. So if you want some fun upbeat music, check it out.


Well I should get going. I actually got here early today (my coworkers were going to a titty bar last night so I was advised to take a cab)...so I figured I would blog! Have a good one everybody!!!!