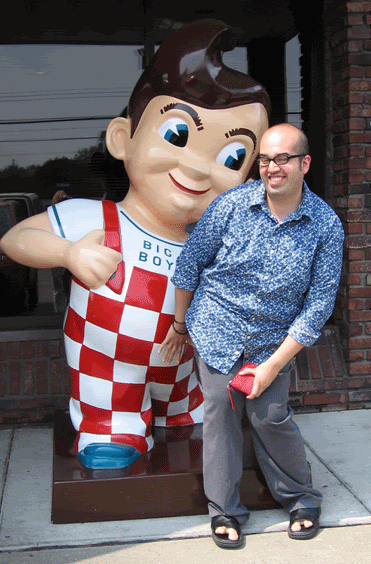 My coworker finally downloaded some of the pics we took when we were in MI for what seemed like forever! Anyhoo I just wanted to share this dorky picture she took of me outside of Big Boy! I was so excited that these restaurants still exist! They haven't had them in Milwaukee since the early 90s! I have no idea about Chicago. I even got a Big Boy bank for my desk! I know what a dork.


I know I've been bad in blogging lately. I've just been really busy at work! It's like non-stop! Since today is the day before a holiday, I figure I would take advantage of it being a bit slow and write in my blog.


Did anyone watch the AMA's last night? I really don't care for these type of award shows but there was one reason we watched last night...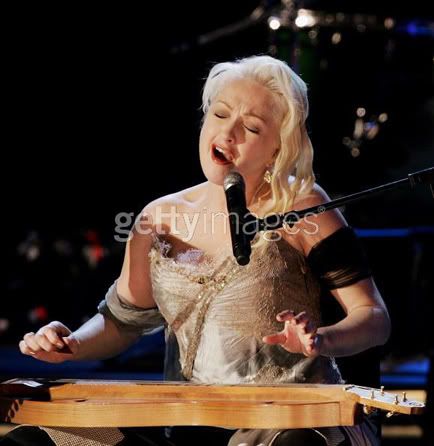 Cyndi Lauper performed w/ Sarah McLachlan and they were awesome! They did a new stripped down version of Cyndi's classic Time After Time from her new career retrospective The Body Acoustic. Awesome!


But did you see Mariah The Sausage Carey?? Eeeew! Someone shoot her stylist!! My god she looked awful!! Ms. Thang should not being wearing half the things she wore! I mean I'm a big girl, but I know never to be all hanging out like Mariah Scarey did last night (no offence T-bagg...I know that's your girl and all). Photographic evidence to further my case (from last night's award ceremony):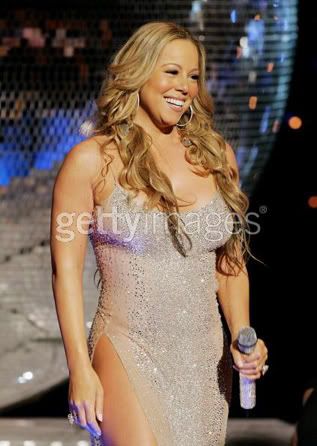 The weekend was one of sleep deprevation. We drove to Milwaukee Friday night and got in around 2am. Saturday spent the day helping my Mom do some cleaning up and later that evening was a Truly Outrageous event! My friend Juanga celebrated his bday w/ an 80's twist so people were in full blown 80s costumes. As you can see from my bright pink wig, I went as Jem! My friend Emily made me my costume and if I don't say so myself, it came out FUCKING AWESOME!! I'll post a full body pic later. But in the meantime here are some moments from the evening's drunkeness. Keep Claudia away from the liquor! She's evil! As you can see there was an Alaska, Kylie Minogue, La Tigresa, George Michael (The bday boy), Cyndi Lauper, Madonna, etc. It was a blast, but I have to say my fave costume of the evening was my friend Ryan as Joan Collins! Hilarious! Enjoy!


So everyone enjoy your turkey day. My mom is coming down and is going to cook for us! Yummy! We're actually not doing turkey, it's over-rated and puts everyone to sleep anyway. Instead we are going to have her famous Beef Stronganouf (is that how u spell it?? It's to die for!!). Gobble! Gobble!


me.
update


Here's my Jem costume! Outrageous!