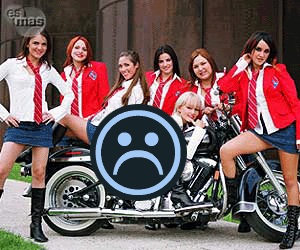 I was so sad yesterday. Wanna know why? Becaue my damn novela wasn't on! They were showing some stupid fútbol game!! Who gives a fuck??? I neeed my teen soap fix! Seriously. I think since I was such a loser in high school, I want to live vicariously through all the fresa characters that televisa spews out. Couldn't you just see me hanging w/ them? I would look hot in one of those lolita-esque prepa uniforms. Hot!


I would have posted earlier...but I was actually busy! WTF! My boss assigned me to work on a small project. Thank god I was about ready to die from boredom.


Can I tell you all about my ride home yesterday? So I get on the train to go home and what do I discover the minute I enter the car? The air conditioning was not working! Holy hot! Another reason why I hate summer. It was the longest ride ever! I even got off a stop early because I could not breathe anymore. Can it be fall yet?


mE.