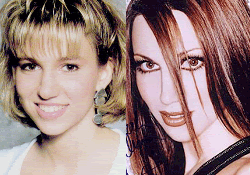 today is
deborah gibson's 34th birthday
! 34! when i was 10 i became obsessed w/ her (along w/
tiffany
, who can outsing deb anyday! lol). i just thought it was noteworthy because one of my childhood idols is now in her mid-thirties. that's not too unbelievable as i am now 27. in her honor i will be listening to my deborah gibson mix on my ipod.

there is only one episode of six feet under left. that sucks!! this season has been great. i am assuming it won't be on this weekend since it's a holiday. uff! guess we'll have to wait a whole 'nother year to find out what happens. but can i just say...get rid of george already! he's creepy. on a lighter note america's next top model is coming back! not sure when, but i know it's soon. i've seen billboards up around chicago already. must check on the date.


since it's ms. gibson's bday i'll reinstate my song of the day feature. i think i'll just pick a song and not try and say something witty or clever about it. with that being said today's song is free me from her '92 release body mind soul (my fave deb album of all time). i know let the dork comments begin. ciao ragazzi.