I just realized that today marks 11 years ago that
Selena
was murdered. I must say, as morbid as this may sound, I am grateful for that. 11 years ago my parents opened up their Spanish language record store in Milwaukee, WI and at the time we had barely been open a few weeks. People started coming in and looking for her CDs. It was so awful how some people didn't even know who she was but would come in and say things like the following (no I am not making this up):
No tienen discos de ésa, la que mataron
. LOL! It's awful I know...I'm surprised her father has not released another compilation to milk her death like he does every 6 months or so. Anyhoo as a result of that business took off. If it hadn't, I would have never met many of the wonderful friends that I made back then because they were customers.
While I was looking for what picture to include I came across this one where she looks like she could have switched places w/ Jeanette Jurado from
Exposé
.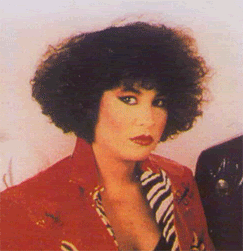 I swear
Selena
must have wanted to be a freestyle singer. My favorite Selena song ever is a pseudo freestyle song from 1989 entield
MY LOVE
. On the spoken linear notes of the album it came from, her brother (who I swear has to be gay) explains that they were going for a club sound a la
Sweet Sensation
and
Exposé
! Hot! In all honesty she was a hell of a singer, and I think to be a freestyle singer you either had to be nasal and tone deaf (Lil' Suzy) or loud and puerto rican (Denise Lopez, India, etc.). Ha ha!
As much as I enjoy Selena's Spanish language music, it's her English lanaguage and Spanish pop songs that I enjoy the most. I just found this live clip of her singing one of my favorite songs she's ever recorded,
Missing My Baby
. Enjoy!