Do any of you remember
Sor Inés
? Well she was a singing nun who had one hit in 1996 in Mexico. Produced by José Ramón Flores (the man behind Fey's teeny-bopper hits), her single
Un rayo de sol
became a favorite on the now defunct
Siempre en domingo
. Seriously, can you get any campier than a nun singing over euro dance beats? It was awful, and I could not pass it up! So here I leave you w/ a chance to download this forgotten EP: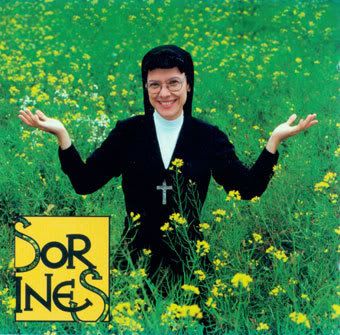 Sor Inés 1996 EP
Get it while you can kiddies!
In other news, it's friggin' freezing outside, but I can't complain...give me -10º over a nasty hot summer heatwave anyday!
Bear fever has overcome the entire Chicago area. I don't think I've felt this gay since...well...ok I've always felt über gay, but it's at times like these that I realize how removed I am from sports and all their hoopla. The only bears I know hang out in boystown. Grrr indeed.