Winter is here! I love it! I love waking up in the morning and having to put on my hat, globes, scarves. I love the cold! I'd rather be cold than hot/sticky/sweaty and day of the week :) The only brutal thing is my morning walk w/ Chus. But he has a sweater and he's pretty fast now that it's so chilly. Thank god our gas bill is paid off!

Tonight me and Ms. Emily are going shopping to the fabric store to make my outfit for Saturday. I'm soooo excited!


So Rob got some a promo CD of Jerry Rivera's new album. Ask me if I even know any of his songs, rather I snatched it up cause he looks so darn hot in the pics!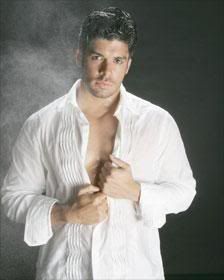 So this has led me to the task of coming up w/ my cute boy CD top 10 list. Us gay boys are so shallow we'll buy a crappy CD just cause the guy is hot. But every now and then, there' an actual good CD underneath the beefcake pics (usually not). I felt obligated to listen to Mr. Rivera's newest release Ay mi vida, but it was very typical AC sappy latin american balladry. Sorry. At least I can say I saw him in concert. I went my a friend when I first moved to Chicago cause he was playing w/ Brenda K. Starr. I know how über prett-a-rican. But anyhoo...he may be like 3 feet tall...but god damn is he a lil' hottie!


Another CD I did finally get my hands on (finally I say because it took forever to actually get into the stores) was:


Ninel Conde!!! I love her!! She's so über trashy!!! Plus she's soooo hot. Even if her boobs are beyond fake, I still appreciate them. There's a fun song that Gloria Trevi wrote for her called Ingrato and plus the title track which I love (even though the leaked version is better).


I am awaiting some work stuff...so I should get going. Must look busy! Happy reading everyone!


me.