Now that I have some time to write...I must tell you all of my horrendous morning. Being the good boyfriend I am, I take Rob to work in the morning. I drop him off and park in Pilsen and take the blue line (normally I take the Orange line). Well today all is normal...until the train stops. I kidd you not, we were stuck for
1 hour and 20 minutes
!!! Thank god I had the newest issue of
In Style
with me (and my ipod). Turns out a CTA worker broke her leg on the track and no one could move until the ambulance came. Poor thing. Sh*tty for us because we were between stops. It's not like I could get off and take a cab to the office. Needless to say I got in around 10:30ish. Now for some exciting news...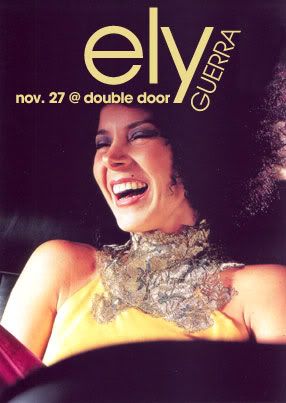 Ely Guerra is playing @ the Double Dorr Saturday, November 27!!!! Tickets go on sale this Saturday @ noon. This will be my 6th time seeing Ely!! I saw her:



1998 @ HOB (De Diva Voz tour) w/ Julieta & Aurora y la Academia (I shouled out for her to sing Quiero verte for the encore...she did. I melted! It was beautiful)


2002 @ Borders: In-store acoustic performance


2002 @ Empty Bottle (the day after Borders)


2003 @ Metro (opened for Gustavo Cerati in July 03)


2003 @ Hot House (last December. I took Rob as his Xmas gift. He was amazed)



BTW that isn't a real flyer for the show, I just designed it for my blog :) BTW, thanx Meiver for noting my date mix ups!