This was the first time in years that I did absolutely nothing for halloween. If any of you know me, you know that Halloween is like, literally my favorite day of the year. For some odd reason, I just was not feeling it. The past couple of years we (my friends and I) always planned parties and went all out but this year that was not the case. I have been so busy the last couple of weeks (work, my interview, dogsitting, etc) I just did not have time to do anything. I had a great costume planned too. We just ended up staying in and chilaxing. We spent the whole day w/ Shakespeare. We took him over to Janet's to visit w/ her baby Roxy. That was interesting. Shakes isn't used to other dogs, but he was fine after awhile. Janet is too sweet and is always cooking for us. I feel like she's our mommy in that sense. Lol! We also took him to PetSmart. It was so fun. Back to 'ween...like I said we just stayed in and did nothing. Bummed around. Around 1am I decided to go to Dominick's and buy some Tequila & Margarita Mix and we drank, smoked and watched
Sixteen Candles
. It was nice. Since I don't have any pics to share since we didn't do anything I thought I'd share one from last year. I went as
Stuart
from
MadTV
. Here I am w/ my friend Ramón from Milwaukee at a party we threw last here at Freddy and Juan's: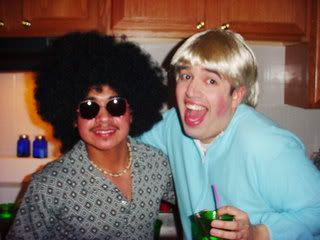 Sunday we ended up going to Maxwell Street again (gosh is this becoming a pattern??). We only really wanted to go and eat Huarraches. They are so f*cking good! I don't even care if there are onions on them! Lol. Of course we ended up looking around and how did we buy more cds? I swear we are addicts. But I paid no more than $2 per cd. I found (don't laugh) 98º's last album (I have a crush on them..especaily Nick Lachey), Terrence Trent Darby's debut, Bobby Brown's Don't Be Cruel (I am trying to recuperate some lost childhood cd's that I sold when I went alternative in high school), Milli Vanilli (I wanted the original one cause I sent in my back when their scandal hit for a refund), a Taylor Dayne remix single, some imports and God knows what else. But my special find of the day? A Mexican blanket!!! I've been wanting one forever! You know those tacky looking furry blankets they sell w/ some ugly animal on them? Well I got an ugly blue one w/ dolphins. That thing is so warm!!! The stupid Bears game was on (I hate football it is so dumb...sports in general do absolutely nothing for me), so my show wasn't on 'til like after midnight. But Desperate Housewives was great last night! Lupe Ontivieros was great as Luis's mother. Can't wait for next week! I just wanted to share this flyer for an upcoming Santa Sabina concert. No it's not in Chicago but in Mexico, I just thought it was a cool poster. God I hope they come back. Last time I saw them was 2002 (??) at Joe's Sports Bar (don't ask!). Rita Guerrerois a goddess!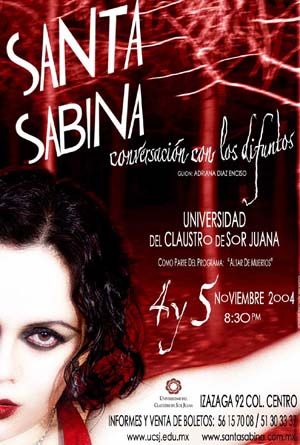 All for now, hope everyone is well. I'm adding some new links to other blogs. Check them out. First is my dear friend and fellow putz Ricky Ramón! Also check out my SayHey! buddy Salvador's journal. have a good one everyone!