I've been trying to write for the last few days, but work has been keeping me busy. What can I expect it's a job. I'm kind of in a funk right now cause I am bored to death of my job, I am having no luck finding another and I have bills up the ass to pay. On a brighter note the CDs I bought in Mexico to sell on ebay did very well! I think I paid $40 maybe for all of them (if that) and I got a whopping $120!! I am using that money to pay off bills. So at least some good has come.

I meant to post these pics ages ago but never got around to it. Kelly Tsoula Doukas was in town and her and Marlene came over for dinner along w/ Weenie's baby Milo. Ooooh! Kelly I want those pics from Alethya's bday outing and any other ones u took (ooooh and slutty greek boy pics!!!!). I know u read this, so I am sorry I didn't get to say goodbye before I left for Mexico. It was crazy departure. Sorry. I hope u still love me. Enough mushy stuff...here are some pics. First is Rob and Chus and Milo. What fun it was having 2 dogs in the house. The second is Kelly on my Gazelle. It was fun. She had her first meatloaf ever! Gasp!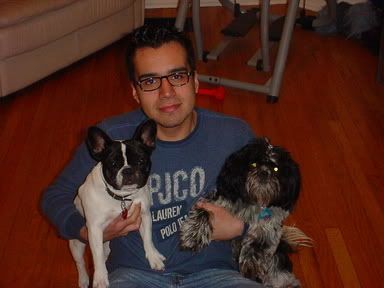 Anyhoo...I have to tell you all about my new musical obsession! The other weekend I went to Lola's w/ my Milwaukee Sister, José and Rob. Afterwards we went to Berlin. Hadn't been there in awhile. Forgot how much I loved the place, even though it's always too crowded. Not to mention all the scary trannies that hang out there. Anyhoo...they always play really fun music, lots of electroclash like Peaches, etc. So this song comes on and the first line is Do I look like a slut? Uh huh. So what. The song was absolutely hilarious and it reminded me a dirtier Fannypack (whose new album I still have yet to buy...GASP!). After some searching Rob found it and the song is by this duo called Avenue D. Needless to say it's become one of my most-played songs...until I heard (rather saw) this! OMG...it is the fucking funniest thing I have ever heard in my life. Über raunchy...and oh so funny. You'll be singing along for days. I am so ordering their cd! Besides anyone who claims their musical influences range from new wave to freestlye, to Cyndi Lauper to Jem and the Holograms are way beyond cool in my book! Please come to Chicago!


So I already emailed Glennys (congrats again on ur new baby Dali!), Meiver and Patty about this...but one of my favorite shopping finds in Mexico was ex-Fobia lead singer Leonardo de Lozanne's second flop album Turistas. What a shame it flopped! It was so much better than his debut flop cd....do we see a pattern here? This CD is already long out-of-print and I was so lucky to find a copy in the discount bin in Torreón. I wanted to share w/ you all one of my fave songs from the album...MUJER DE LOS 80s. Enjoy!


BTW I am going to see Paulina Rubio tonight w/ my Milwaukee Sister. I've seen her twice alreay (once when she was promoting PLANETA PAULINA and on her last US tour). God she's awful, but she's my favortie bad singer as I've mentioned time and time again. I can't get enough of her. I better wear noca-repellent...as I am sure there'll be lots of 'em at tonight's show. Rumor has it she is not doing that much material from her EMI days. I hope that's not true. I miss her olden days w/ her big eyebrows and bleach blond hair. Sigh.