I've been meaning to write more and share some pics, but I've actually been *
gasp
* busy at work! LOL! That sucks. Last thing you want to do when you come back from vacation is work.

Like I said before I bought Rob a shitload of cd's in Mexico. Probably around 20 or so...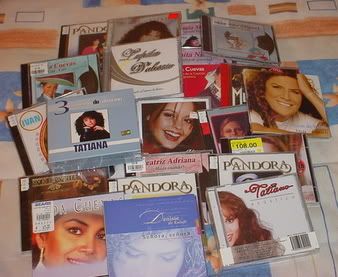 Mostly his menapausal divas, but the look on his face when he got them all was priceless! BTW my suitcase finally showed up Tuesday morning. The majority of these were in there. Other than all my CD shopping...I called Rob every night while I was there. Needless to say I went through a lot of these phone cards. Too bad they only lasted about 10 minutes. I guess that's what 50 pesos gets you: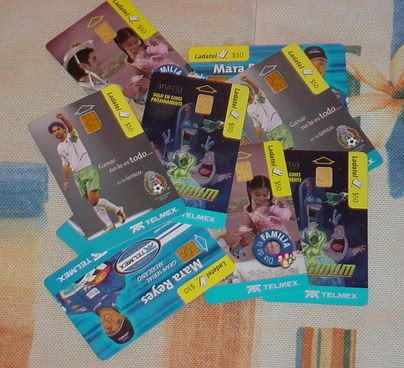 I did manage to pick up about 10 or so CDs for myself as well. You'll see in the middle Ari Borovoy, which I had to purchase 3 copies. One for me, one for Rob and one for my Milwaukee Sister! It's awful, but who cares...he's fuckin' hot!!!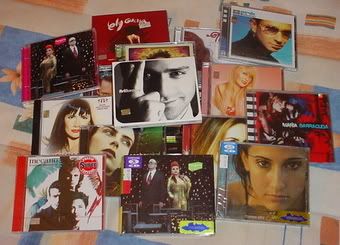 So while I was at the hotel, I knew I had to try and catch some episodes of Big Brother VIP. Normally I wouldn't care about this show, which places has-beens and C-list celebs in the VIP version of this popular show. I had to watch cause my girl Sasha Sökol is one of the habitants! It was so addicting. I hope she actually wins! God knows she can use the exposure. Her last CD was just barely released in Mexico. It's excellent, check it out!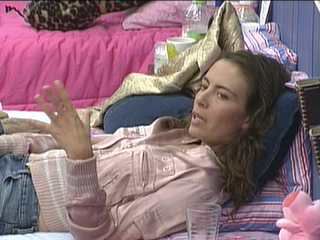 So last night we decided to give Chus a haircut. He has so many knots, I was too embarassed to take him in. Rob did an excellent job! He looks adorable! He was cooperative for the most part. I'll post some pics later. Apparently I am on call this weekend should any major help be needed. Let's hope not! I'm looking forward to staying in and relaxing w/ my babies. It will be nice.


Did you catch last night's finale of America's Next Top Model? I can't believe Naima won! I'm sorry but she was too cocky, and I thought there were so many other girls who were better than her. Plus she looks too much like J-Lo, so that automatically makes me dislike her. LOL! I think fabu Brittany should have won. Oh well. That's all for now. Take care everyone!