Sorry I haven't blogged in a few days. Work has beeen hectic. Too many projects. Just want to let everyone know that my
Pajama Party
cds finally arrived!! I am in freestlye heaven :) What did we do this weekend? I forgot already! Not much because of the snow. Normally I don't mind but this is getting ridiculous. We still have not caught the mouse, but this morning our landlord came over and set out some poison behind our appliances. Hope it works!

So I am official obsessed w/ Napoleon Dynamite. I have watched this movie at least 6 times in less than a week. I even went out and bought it on Sunday! Sweet! Now I can watch it over and over and over. My favorite character has to be the brother, Kip. I created this little graphic in his honor. If you get the quote, than you rock!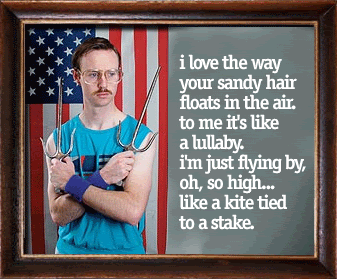 I had to take Chus to the vet yesterday to get dewormed. All is fine! The vet said he is perfect health and to keep up the good work. Since I love to share pics, here is Chus doing one of his favorite things, sleeping in his Mommy's arms (aka me):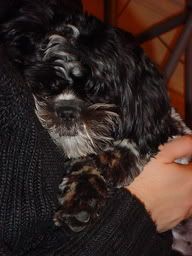 I must tell you all that my lunch Friday w/ my twin blogger, Esperanza was awesome! We had so much fun. I'm just glad I didn't scare her. I can be a bit much. Lol. In her honor (and at her request) the song of the day is El gato y yo by Argentina's loudest diva Amanda Miguel (and drag queen favorite). It's campy fun! Meow!