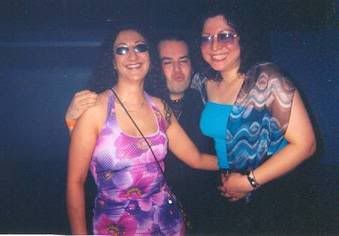 La Garrota, aka Martha sent me this pic last week. It seems like ages ago, but in reality I think it's about 5 years old. Wow! I remember cause I had just moved to Chicago and they (Claudia, Martha, Santi) came to visit me. I think it was at the Palladium. Memories.


Haven't blogged in a few days. Not too much going on. My mom & dad visited on Saturday w/ 2 of my cousins. Was nice but I was exhausted cause I had gone to bed late the night before. Sunday Rob and I went to Maxwell Street. It's been awhile since we've gone (it's been freezing). Found some CDs (I got a Rocío Durcal CD I had been looking for) and after we found another new CD store not too far from our house. I know you must think we have an addiction. Well we do! So what!


Before I forget I am whoring some old used CDs since I have to pay some bills (aren't I always??). If you are interested in what I am selling visit my ebay listings page. I am also selling more of Rocío's postcards & calendars.


Not much going on this week but Saturday is my Milwaukee Sister's bday outing! I can't wait. I know he reads this so I am just forwarning you Eddie that you better bring a mop with you on Saturday. Hint. Hint.


That's all for now. Hope you're all well. I've been trying to catch up on everyone's blogs. Happ belated bday to La diosa dominicana, Glennys.