I don't mean to delay my updates, but life sometimes presents obstacles. I had some this weekend, but I am not going to get into that right now. Things are better though. We didn't do anything for Easter, but we did however take this adorable picture of
Chus
with his Easter Bunny! We couldn't get him to stay still so
Rob
had to hold him because he was more interested in beating the crap out of it :)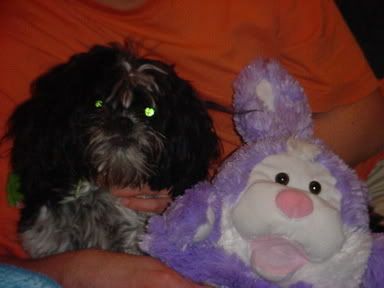 Fangoria are touring! Spain only right now, but they are going to México in April to promote the release of Arquitectura Efímera. In Spain meanwhile they are re-releasing the album and redubbing it Arquitectura efímera deconstruida and it will contain the regular CD, a CD w/ remixes and a DVD w/ all the videos and some performaces!!!! Check out this graphic for their new tour in Spain. God I wish I could go! They are fucking amazing live. Just to bask in Alaska's glory again. Sigh.


Since I am in a Spanish mood, I thought I'd post this new pic of Marta Sánchez looking extremely hot in her photo shoot for Maxim Spain. I'm liking the shorter hair. Will we ever see her go dark?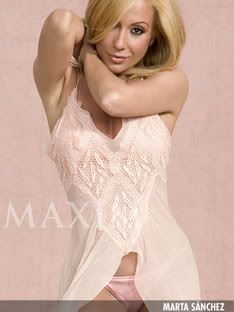 So I have a new freestyle obsession! Her name is Chrissy I-eece and I swear to God her and India must be related. Pictured at left is her only album, a Salsa album from 1992 I believe, and tell me she does not look like India in that picture? That's not all. She sounds JUST LIKE HER!!!! Omg it's scary!! Turns out she only did some freestyle singles (like 12" only) and never a whole freestyle album. I'm obsessed with her now! And to top it off one of her songs, You Should Know By Now was written by Marc Anthony and produced by Little Louie Vega (who is India's ex-husband). Eerie!! I'd upload the song but I don't have access to the mp3 and I forgot my cords to my ipod since I have a bootleg program to extract MP3s. Tomorrow I guess. BTW check cout this site as it's the bomb. Freestyle Divas, they feature all my broads there and it's where I found out more about Chrissy :). TTFN.