So I haven't updated in awhile. I was out of the office these past two days. I stayed home cause I was sick. Not much going on otherwise, just trying to catch up on what I missed. As for the weekend...

Friday night we went to see Bride & Prejudice. It was alright. I didn't love it, nor did I hate it. I loved Gurinder Chadha's last film Bend It Like Beckham (I swear I know every line by heart), so I guess it was hard to live up to.


Saturday was the bday throwdown for my Milwaukee Sister. We had a blast! I got super drunk! Yeah! I don't remember how many mango margaritas I had nor how many blue motherfuckers I drank at Roscoe's. But I do remember they played all our broads in the videobar :) Hope you had a blast Sista M! I know I did. We even ate drunk pizza at the Pie Hole (isn't that an awful name? Lol!). Yummy.


Sunday we decided to go to Maxwell Street and get some hangover food (aka Huaraches). We had 2 each! Oh no! But they were sooooooooooooo good! So again we found all kinds of deals there. I bought (get this) on DVD She-Devil & Elvira Mistress Of The Night!!!! But my true treasure of the day was finding on vinyl Appolonia 6 the single for Drive Me Wild by Vanity 6 and this Vanity solo single that has an oddly large picture label on both sides. One side has Pretty Mess and the other Mechanical Emotion! Check them out...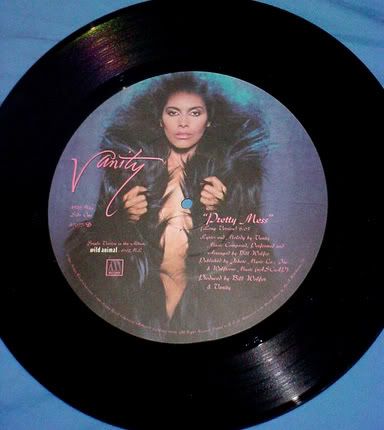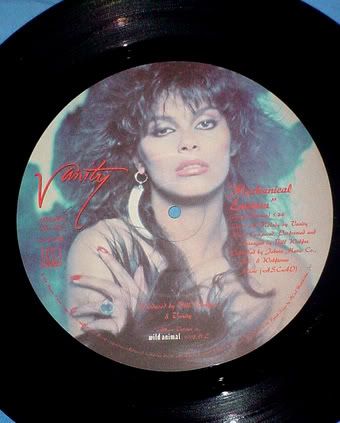 After Mawell Street. I started to feel rather icky. Not to metion I was SUPER hungover from Eddie's bday outing. So I ended up staying in while Rob took care of me and I watched all my DVDs I bought plus Wonder Boys. Did I mention these only cost $5 each? Love Maxwell Street!


Monday I woke up really icky w/ a sore throat and just felt all achy. So I stayed home and by Tuesday I still didn't feel any better so I stayed home as well. But we did sneak in some CD scavanger hunting :) Found some cool stores where we got some steals and some long sought titles as well! Kiara for $5! Woo hoo!

Today I ordered some stuff from Spain. Why is shipping so damn expensive?? It was more $$ than the actual items I purchased. ¡Joder! I must leave you all w/ my song of the day. I have been searching for this mix forever!!! I saw a drag queen perform as Bibi Gaytán years ago at Circuit and she did this remix of Mucha mujer para ti. I was finally able to download it on Limewire. So for all of you enjoy this Bibi remix!.