Now that I have finally come down from my
Fangoria
high, I can now resume blogging. Since we didn't get to Greektown the day of the Fangoria concert, my
Milwaukee Sister
stopped at the CD shop in Greektown and picked me up the latest from Greek's reigning diva
Anna Vissi
:

Don't let the scary lesbo haircut turn you off, this cd is fuckin fierce! Wow! This is by far her best album since X! Wow! Wow! I can't stop listening to it. There is a nice balance or electronic, dance and rock. There is even one ethnic song I enjoyed. Lol! The name of the album is NYLON and you can order it here.


But that was not all that Sista M picked up for me. I saw this next guy on the Greek music site I frequent and it was lust at first site! He's friggin' hot! Grrr! Being the shameless homo that I am I had to have it for my cute boy collection. Not only is he cute, but the CD is actually good! Here are some pics of my new Greek boyfriend Sarbel. Can't find a website for him other than this fan site I found, but it's all in Greek. Anyway back to the pics: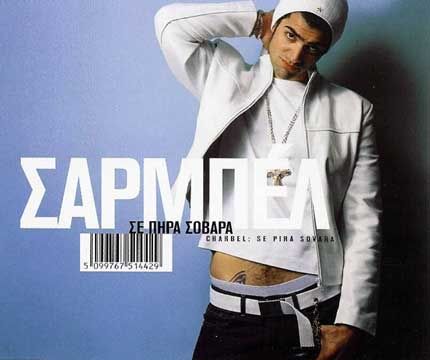 Other than my new Greek CD's I've been jamming out to the new Depeche Mode, the new Fobia and mexican actress/singer Susana Zabaleta. She has an interesting voice, and I am growing fonder of it by the minute. Don't let me tell you how many times I've listened to RBD's new album! I swear sometimes I am a 15 year old girl. I would continue to write but I have work to do. Talk to you all later!