This weekend my
Milwaukee Sister
and I had an
IKEA
shopping extravaganza! It was so much fun! I don't think I've laughed so much in a long time. We bought some fierce furniture for Eddie's new swanky apartment, as well as laughed our asses off, ate hot dogs, checked out cute boys (that cashier and the guy in the army pants...woooh! hot!). I have to say the funniest part was us two nellies trying to lug three carts through the store, one of which had a sofa/loveseat on it. What was even funnier was trying to figure out how the hell we were gonna get it on top of my SUV. I swear the stares we got. We made it home ok w/ the sofa on top and after several hilarious attempts, we got everything into his place! All this was done via a fabulous playlist I made on my ipod entitled
**SISTA M IKEA THROWDOWN**
! It was hot! We only made it through 22 of the 50 songs, but we had a blast jamming out to old school Vanessa Williams, Jasmine Guy, Avenue D, Dannii Minogue, Cover Girls, Denise Lopez, etc.

Just an FYI to those of you in the Chicago area, Sara Valenzuela will be doing an in-store @ Tower Records on Clark on Friday October 14. I believe it's at 5pm.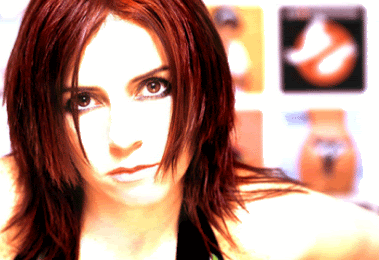 If you haven't check out her debut solo album it's really a cool chill type album. Glad to see she's still out there after La Dosis disbanded.


This is obviously in conjunction w/ her appearance @ the Metro, where she will be opening for Fangoria!!! Speaking of here is a flyer for the show that I borrowed from Radio Arte's website: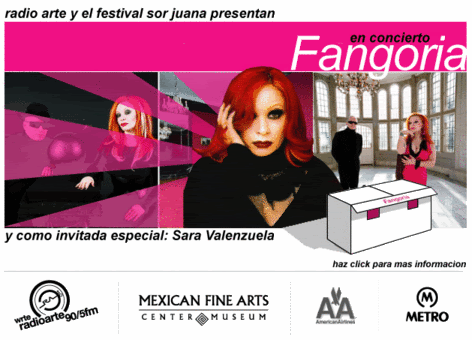 Don't forget it's Sunday, October 16 and tickets are on sale now!.


So what's up w/ this weather? It is October 4th and it's like 80º out! WTF!!!???!!! Fall where are you?? Last week was such a tease when it was like 50º out. Word has it, it will be in the 50s later this week. Here's hoping!

So you know what comes out today? The new RBD album! I am such a homo! I can't believe how much I am looking forward to this. I even went to the local Puerto Rican cd store over the weekend, cause they never obey street dates, but they didn't have it yet. Here's something weird though. The other day when I typed in http://www.kabah.com.mx it took me to the new official site for RBD. Weird huh? You know what else comes out today? Cinderella on DVD! That was my favorite Disney movie as a kid. Can't wait! Ok peeps, I am out. BTW has anyone heard any info yet on the show Tiffany is doing in Chicago? I am the fan and am not having ANY LUCK! If you know leave a comment. Thanks!