This past Sunday I celebrated my belated bday outing w/ some friends that couldn't make the first outing. As
my boo boo
already pointed out, they were so relevant that they had to have an outing where they could attend. Of course that include my
Milwaukee Sister
, Alethya, Jorge and Emily. What a blast we had. We started the night off w/ a sangría buzz from our dinner @ Café Ibérico where a few coworkers had joined us. From there it was on to Roscoe's. See Sunday is my favorite night to go to Roscoe's. Sunday they have the fierce
DJ Bobby
who plays tons of late 80s/early 90s trashy dance/pop/r&b (and you know that means tons of freestyle!!). We screamed and sang along to the likes of Vanessa Williams, Exposé, Pebbles, Tiffany, Cyndi Lauper, Corina, Michel'le and so much more! It was so fun. Not to mention that we got wasted on 4-5 pitchers of long island ice tea!!! Oh no!!! It was just too much fun. After @ the Pie Hole I drunk dialed I don't know how many people. I did get verification from the following:
Tracy, William, Mari, Meiver, Carrie & Glennys!
Someone get the phone away from me! One of my drunken calls even
was the topic of a blog entry
:) I feel honored.
I took Monday off but believe it or not I was not hungover! We started drinking Sunday around 4pm that by the time I was too wasted to stand anymore it was almost 11pm. So I went home, we knocked out and actually woke up early and ran a bunch of errands. It was so nice to actually spend a whole day w/ my boo boo. We even took Chus to the dog park but he really doesn't like it. He gets too intimidated by the bigger dogs. I had to rescue him yesterday from a doggie bombard!
For some odd reason this past week I have gotten so into watching series on DVD. I've been catching some Degrassi Junior High here and there. But there were two shows I could not stop watching!
First being the now defunct
Life As We Know It
. It was from the producers of
Freaks & Geeks
and was really good. Plus I think I now have a crush on the main hearthrob,
Sean Farris
.
The other show I am hooked on is the
telenovela
CLASE 406
which was done by the same producer as
Rebelde
. It was pretty obvious as half the cast of 406 ended up on Rebelde.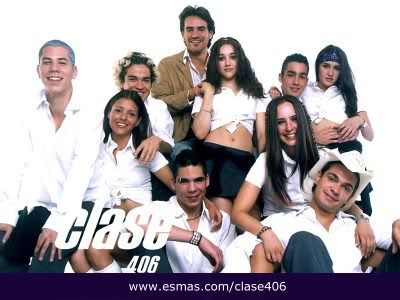 Plus
Jorge Poza
is in it and I've had a crush on him since I saw
Segundo Aire
. It's one of those shortened DVDs that Televisa does, but I adore because they cut out all the non important scenes. It's so good (a million times better than Rebelde might I add)! I have a disc and a half to get through still. Don't anyone ruin it for me either.
Speaking of ruining, Patty, no more talking about Alborada! You're ahead of us so don't tell me anything! GOL!
I must get going as I have lots to do here at work since I was out yesterday. Hope everyone has a lovely week!