I remember back in college hanging out w/ my friend Alethya. We were drinking and began pondering one of life's big questions. How the hell do you say
Bloody Mary
in Spanish? Somehow in our drunken stupor we decided that it must be called
María sangrienta
. Sounds appetizing huh? To our dismay one day we were watching a film from Spain and one of the characters said the following to the bartender:
Quiero una bloody mary
. Of course it was said w/ a huge accent but we were so dissappointed that our translation of
María sangrienta
was not correct!
I had a lovely weekend in Milwaukee. Saw my Mom, got some goodies she brought us back from Mexico and attended my first ever White Elephant Party. I must say it was a blast, and was rather pleased that a certain friend got the gift I brought. I unfortunately got a huge box full of used light bulbs. Yeah. Exciting I know.
They are now sitting in a garbage can in Milwaukee. Could have been worse. Someone got used dental floss.
So tomorrow is my bday. I'll be expecting comments galore! Lol!
My coworker just informed me that
Ely Guerra
is coming to the
Congress Theatre
as their continuing series of free concerts! So get your ass to their website and sign up for free tickets! That's Sat. Jan. 28. Doors open at 7.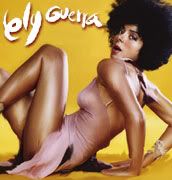 But it gets better. Not only is Ely coming but so is
Francis
. Yes that Francis.
Probably Mexico's most famous
travesti
. She was one of the host of the über naco
Hasta en los mejores familias
. So you know I can't miss it! It's Saturday Feb. 11 @ the
Congress Theatre and is free as well
. I'm so digging all these free shows.
Laters.
Edit
Someone must really want to wish me an early birthday!
The Colin Farrell sex tape has linked!
If you love me people you will send this to me! OMG! Pass me a tissue!