First of all
HAPPY V-DAY
to you all.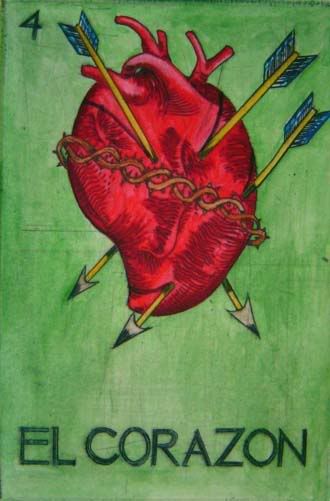 Hope everyone had a great weekend. We took a little trip to Milwaukee and visited my Mom as well as made the obligatory trip to
Bryant's
the best bar in the world! We got in super late, around 5am after hanging out w/ my cousins! I was hurting all day yesterday. I think I even went to bed @ 9:30pm last night as a result. Felt great!
So this morning as I was getting off the train and walked up to the street level at Jackson and Dearborn, I noticed yet again that the
war ladies
were standing there w/ their homemade signs protesting the war. I can't help but not feel sorry for them. Nobody even pays any attention to them, maybe it's their crayola marker signs. They look something like this.
Oh well. In other news don't forget that
Francis
is playing 2 free shows this weekend @ the
Congress Theater
. We'll be attending the Sat. show. Should be fun. I am sure it will be filled to the brim w/
locas
and
vestidas
. Some friends from moo-town are even coming up for it. Fun.
That's all I got for ya. Ciao ciao.