The moment you have all been waiting for...my
Milwaukee Sister
has finally posted to his blog! Oh no! Everyone check out the fierceness for yourself! I'm sure it will be a hoot! If you've ever wondered why I am such a freak, it's probably due to the fact that I associate w/ people like him...haha! Seriously folks, Sista M is the fiercest bitch I know! Introducing:
Chicago Sexbox
! Bookmark him now! BTW I almost forgot to mention that
Meiver
has a special post about me today! LOL! It's a lovely recap of my drunk dial to her :) Love ya babe! And
when are you coming to Chicago?

So my Mom is going to Durango for 2 weeks tomorrow. I give her a small wishlist of CDs I want :) The rest I will be ordering from Mixup and have shipped to my Dad. It's so much cheaper. Anyhoo...speaking of Mexico, I am so excited that Sasha has made it to the final of Big Brother VIP. Rumour has it that if Sasha made it all the ex-Timbiriches would go show their support! I wish I could see it! So for those of you in Mexico....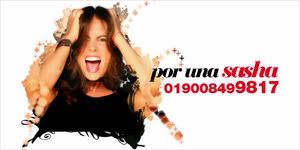 I hope you all have a good weekend. I think we're just gonna stay in and chillax. Thank god we don't like in trashy Bridgeport anymore and have to deal w/ all the ghetto children and their fireworks. Being that I am not patriotic in any way, for those of you who are, enjoy it. I must go and pretend to look busy. Luckily for me my boss is out the rest of the afternoon :) Maybe we can leave early! I have to clean my house as my hermana, Robert is supposed to come over tomorrow. Have fun everyone this weekend and don't forget to read my Milwaukee Sister's blog! Enjoy your Monday off (for those of u in the US).