Today was the second day this week that the air was not working on the train! WTF! Can't the
CTA
get their shit together? I also heard it's supposed to be 100º Sunday! My poor dog! Poor me!

Before I start my usual ramblings, I have some news to share. No I didn't get a new job. Well sort of. Those of you who read my blog know I've been bitching and moaning about how unhappy I am at work. A few days ago I was asked to move onto a new account. So techincally it will be like a new job, as it's a new account, new floor, etc. BUT...I have to go to Troy, MI for a month for training and to work on-site! Ahhhhhhh!! Sucks!! Unfortunately it is only a lateral promotion, but still at least I won't have to work on this anymore. Sucky I know. I don't know how I am gonna get through that long w/out ROB and CHUS. The only good thing is that we are being flown in every weekend. But my boo boo works weekends! Ahhh!!! At least Chus and I can rebond. I leave this Sunday and return next Friday to Chicago. So it will pretty much be like this until the end of August. Starting Aug. 22 we'll all be back in the office. I am excited about this new opportunity but am quite sad about having to be seperated from my partner. The worst part is I will be in Troy on our 2nd anniversary :(


Sorry for not being my usual self. I'm just really bummed out. To cheer me and you all up here are some pics of ALEJANDRO FERNÁNDEZ that are in the newest issue of TV Y NOTAS. Get me to a newstand!!!!!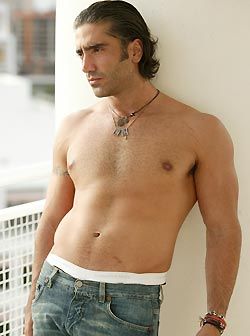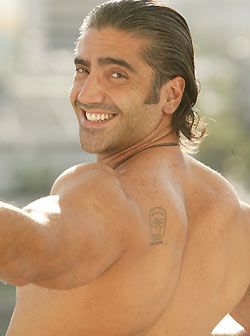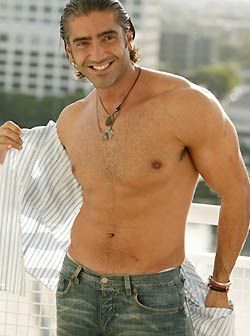 Ya me mojé. This man is so f'n hot!!!! I wish he wouldn't shave his chest though, chest hair is sooooo sexy. Grrr.


BTW for those of you in Chicago what's up w/ VIVA switching formats to an all RE-GAY-TON format! WTF?? VIVA was the only Spanish pop/rock station left (the other 2 died out early on). Now they are called LA KALLE. Ghetto. As it is VIVA was starting to play 3 reggaeton songs to every 1 pop song. So I guess it was coming. But still. I know it's just a fad and hopefully it will just fade out. As it is Chicago radio sucks. I guess that's what my ipod is for.


BTW I finished RUBÍ. I know some people were bitching about the finale, but I loved it! I can't go into detail because ROB is still watching it. But I was quite pleased. What a great trashy soap! Speaking of soaps, I better start programming the VCR to tape REBELDE while I am in MI.


So as a result of my having to go to MI, not sure how much I'll be writing here or if it will be limited to the weekends, etc. All I know is that we are staying @ The Embassy Suites. I'll check into internet availability, etc. I have some stuff to work on so I must go. Take care everyone!


mE.