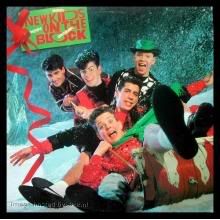 Who knew that this 1990 marketing ploy would be so scarce in 2005? We are going to be having a holiday get together soon and I wanted to play some fun trashy xmas music. Naturally this came to mind. I remember seeing it a few years back at Tower. When I looked into it's availability I came to find that it is out of print. Not only is it out of print but it goes for $30+ on ebay/amazon/etc. So being the good shopper I am, I did some digging and came across a copy of the Japanese import for the mere price of $13 w/ shipping from Japan! It arrived earlier this week and I must say, time has not been kind to NKOTB's xmas fare. But, I had to have it. I think I get off on finding rare cd's at cheap prices (hello I found India's freestyle CD for less than $10!!). At least it will serve it's purpose the day of shindig.


So a friend directed me to a blog that I am becoming obsessed with. He asked about this. No I don't have it but I must. The this in question:


Yes Blair from the Facts of Life recorded a Christian LP in 1984 (and it was nominated for a grammy!!!). It is crap-tastic (I am stealing that phrase from a fellow SayHeyer. Check out this guy's blog, FourFour! Not only is he obsessed w/ America's Next Top Model but he has an affinity for crappy late 80s/early 90s music! Can he DJ at my next party?


Speaking of ANTM, next week is the season finale. Since Lisa was shockingly let go, I have to say based on who's left and how they've been wowing us lately, my money's on Nik.


Of all the girls, she is the only one who really looks like a model. Besides if Nicole wins, I may just barf!


I am still working on my cute boy CD list. I've run into the fact that most of these are packed away somwhere to never be heard of again! LOL! Leave your suggestions.


I am off, I am going to Café Ibérico for tapas and sangría w/ some friends. Ta-ta to you all!


me.