I am relaxed after having a 3 day weekend. I slept until 11am yesterday and didn't do much other than watch TV, write out my xmas cards and clean up a bit. Ahh. To think This weekend I have a 5 day weekend. Love unused vacation time :) Had a super busy weekend as usual.

Friday was 2 work parties. One for my current group, and one in the evening for my old group. Quite honestly I kinda felt a little out of place. Is that weird?


Saturday I spent most of the day running around doing errands and finishing up the last touches for our holiday get together. Needless to say we had a blast and the right mix of friends :) Here are some photos from the evening's festivities (note how adorable my baby looks in his Santa outfit):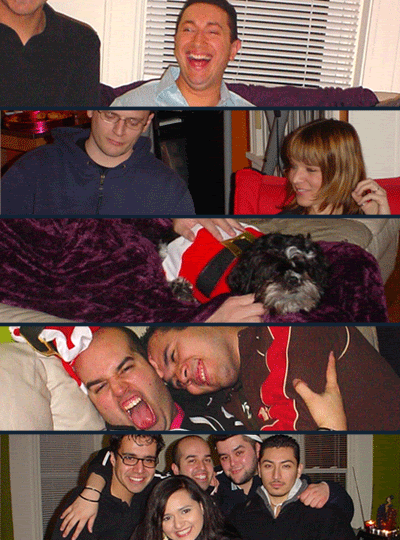 The cutest thing was that at one point of the night we found him sleeping on our friend's lap! He was never used to that many people around, so I think it overwhelmed him a bit. That was ok because he sure as hell slept it off the next day. Anyhoo the point of our get together was to have a tacky xmas xchange. We had to get the most creative gifts from the dollar store (even though some people cheated...Target, Kmart, Kohl's, etc.). It was fun and I got a pair of fairy wings! There was tons of piña coladas, freestyle and oh so much more.


On Sunday I was a bit tired to say the leaset and I did a lot of nappy w/ my partner in crime Chus :) Didn't do much other than lounge around and load the dish washer. In the evening I ended up going to see Brokeback Mountain in Evanston (free parking rocks!!).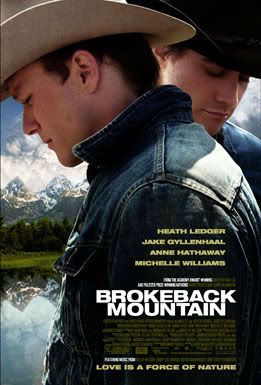 Emily, Jorge and my boo boo took in a 9:15 showing. Now I enjoyed it, even though I did think there was too much hype, mostly for the hot "butt sex" as Emily kept calling it. Who am I kidding? I loved it because of Jake Gyllenhall. Sigh. Dreamy Jake. Grrr. Someone on the other hand found it more amusing than anything else. Explains the constant chatter. LOL.


I had Monday off and am only working today and tomorrow for the rest of the week! I can't wait! We have even decided to relive old times and go to Circuit on Thursday! Thank God I have off Friday otherwise I would only last 2 drinks! It sucks getting old.


Should get going as I have to get back to work. Ugh. Ta ta everyone!