I usually leave the
beefaroni
entries to my
Milwaukee Sister
. But I had to gush over this random hottness. I've had a crush on
Jerry O'Connell
for years. He's hot! Have you seen him on the cover of the newest issue of
MEN'S FITNESS
?? I couldn't find the cover online anywhere, but trust me he looks
HOT
! But when searching for some hottie pics of Jerry I came across this one...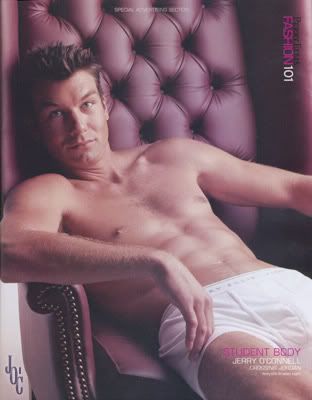 Grrr indead!
In other news I have begun the search for an apartment for my
boo boo
, Chus and I. I know it's super early but, I always say it's never too early to start looking. Thus far I haven't found anything that wows me yet. There were a few I thought might be good but once I found out it didn't have a dishwasher....oh no! See I never had a dishwasher in my life until we moved into our current place and let me tell you I don't know how I went so long w/out one? All I want is a 2 bedroom (a den as well would be nice), hard wood floors (I don't do carpeting), dishwasher, central air/heat, laundry on site (in unit is even better), parking, dog friendly (that is #1 on my list) in the same 'hood we're in now. What's so hard about that? Wish me luck.
In other news my Sista M and I are equally upset to hear that after waiting what seems like an eternity for
Dannii Minogue's
new album...all we're getting is a lousy greatist hits compilation w/ 6 new songs!?!? WTF!?!? Dannii...you dissapoint me so. After the fiercest electropop album ever,
NEON NIGHTS
, all we get is fucking GH collection??!!?? The only good thing is supposedly there will be a DVD...but still. A GH!?!??! I can't write anymore, my favorite Minogue has let me down.