I've been über busy at work and therefore have not been able to blog all week. My knee is doing much better in case you care. But the point of my post is about the march that I viewed from my office window this past Friday. My coworker was in the midst of things and took some pics. She's allowed me to share some with you: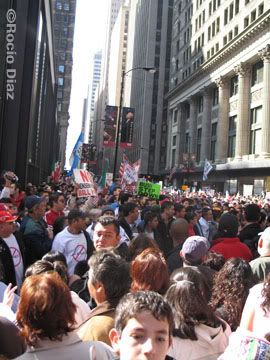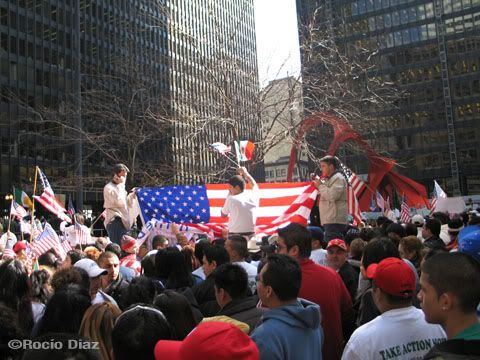 It was amazing to see how passionate all these people are about the state of immigration in the US. What was even more wonderful was that so many people from so many different backgrounds all came together for this cause. Corny as it may sound, I'm being completly honest.
I'm ashamed to say that I had no idea this march was even going to occur. Sometimes I am in my own little world. But while I was looking out the window you could see blocks and blocks of people marching all in opposition of
HR 4437
. This rather hits close to home for me as last year my father was deported. This is something I have never really written about in my blog just because at the time it was all too much to take in. In all honesty it is a very complex and long story that I don't feel like going into right now.
What pisses me off is the pompous attitude that so many
"Americans"
have regarding immigration, and illegal aliens. Unless you're a Native American than you have
absolutely no right to bitch
. Somewhere down the line your ancestors came here from another country. Sorry these illegal aliens are taking away such precious jobs. I am sure Miss Lily White Republican really wanted that job bussing tables at the local Mexican dive restaurant.
Anyhoo...I'd like to get off my political soapbox now.
We didn't end up seeing
Anything Box
last night. We were broke and in all honesty I didn't want to be standing for so long, especially since my knee is just getting better.
I am so looking forward to next Sunday as we will be going out for my
Milwaukee Sister's
white trash bday throwdown! It's gonna be a blast!
While looking at the
Chicago Reader
the other day I noticed we're in the midst of the
European Film Festival
here in Chicago. You can get more info on what films are playing
here
. There is a film from Spain that I want to see called
20 CENTIMETROS
playing March 23. Anyone wanna go?
Twing blogger
how 'bout you??
Speaking of my
Twin Blogger
, her URL has changed. Visit her blog at
espelina.blogspot.com
.
Btw I am soooo excited that
America's Next Top Model
premiered last week!
Nnenna all the way!
Jade needs to go down!
I'm out.