So I was looking through some old pictures when I came across this: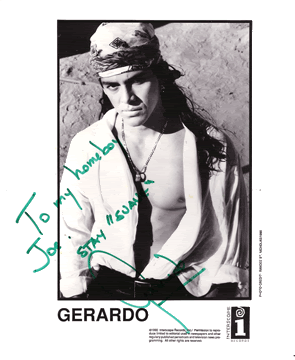 Yes it's real. And yes I
actually wrote a fan letter to Gerardo and he send me an autographed picture
. Loser! I had such a crush on him! LOL! When did he hit big? 1991 I believe? I must have been like 14. I just can't get over what he wrote.
To my Homeboy Joe. Stay "SUAVE". Gerardo.
Lol! Can you believe I thought he was hot? He had a nice body sure, but that creepy headband and nasty hair extensions. Eeew.
To further our amusement:
I think he's a born again Christian. May the Lord be with him.