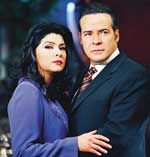 So the other day my
booboo
bought the
telenovela
La Madrasta
(the Stepmother) on DVD. First off let me say that these condensed versions of Spanish language soaps are the best! I can totally watch them at my own leisure (I've already watched
Rubi & Clase 406
) and they cut out all the unimportant stuff and just get to the good stuff if you will. As the BF has already
noted on his blog
I have become
ADDICTED
to this! There are 3 double sided discs, the total running time is 11 hours, and I am already on disc 2 side 2! I love it! I totally want to come home and just watch it for hours. If I didn't have to work tomorrow I would stay up and finish the whole thing! LOL! This soap is great as it's über trashy and super addicting. But I have a question about one of the characters for those of you who have watched it. When we first meet
Michelle "ass face" Vieth's
character in jail w/ María (
Victoria Ruffo
...btw everytime they say her name I hear the theme song from
Simplemente María
of which she was also the protoganist), she has a Mexican accent. A few scenes later she has the most bizarre (I'm assuming) Brazilian accent! WTF!?! Can someone explain this to me?? And before you ask
Sista M
, there is one cute boy...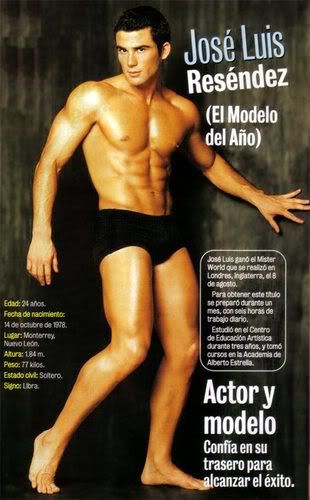 José Luis Reséndez
as
Greco
.
Other than watching soaps on DVD I've pretty much been busy at work. I just got put on a new project for the next couple of months, and it's really exciting and I got my raise. Not much but hey, something's better than nothing.
I made a brief trek up to Milwaukee this past Friday to visit my Mom before she left to Mexico for the new 2 weeks. It was a nice night out as we went out for dinner and the obligatory trip to
Potawatomi Casino
where I won $86! Woo hoo! We bought groceries w/ it. Exciting I know. On the downside, our baby
Chus
got sick late Friday evening and most of Saturday because I wasn't home. My poor baby. He started to feel better after I got home and eventually was back to his playful self the rest of the weekend.
I haven't posted a vid in awhile. Today I am going to pick one of my favorite songs from one of my childhood idols. By 1993
Deborah Gibson
was pretty much a has been but she released her best album to date,
Body Mind Soul
. It contains some great dance songs as well as her usual sappy ballads. But one ballad in particular stood out, that being the first single
Losin' Myself
. While it was not a hit, I think it barely charted at #98, it was new sound for Ms. Gibson vocally (she sings at a lower register) and musically. Plus she looks hot as a stripper in the video w/ her then new brunette hairdo. Enjoy!