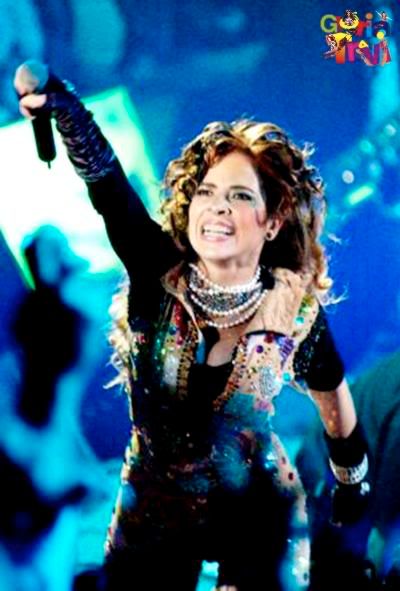 Wow! Wow! Wow! All I can say is WOW! Gloria Trevi was awesome! It was worth being on my feet for 5+ hours (poor Rob got to the Aragon an hour before me). We had to endure a crappy opening act, her nacolicious chicago fan club (more on them later), but all in all it was so worth it. Unfortunately I did not take my camera (it was too bulky to hide) so all I could find was this picture from a show in Torreón from the Trevolución Tour in Mexico. So where do I start? I felt like I was 15 year old queen again the way I was screaming and jumping up and down, but I didn't care. Gloria was amazing. She's 5 months pregnant and was jumping around, screaming, etc. like there was no tomorrow. She has so much energy and you could so tell she was meant to be up on that stage. She sang material from all her albums and gave a 2 hour show that left me whoarse and my legs sore (I told u we were standing for 5+ hours). I can't remember the setlist offhand but some of my faves of the night were: Hoy me iré de casa, La pasabas bien conmigo, Amor apache, Como si fuera la primera vez. For those of you who still have a chance to see her on the US leg of this tour, do it! You will not be dissapointed. She was genuinely shocked at how hardcore the audience was. At one point she decided to test us by singing 'lesser known' songs acapella. Well she would start and we finished every single one. LOL! She was so impressed that she promised to come back and do a 3 hour show next time she's in Chicago. Here's hoping it's true. What a wonderful night. The only bad thing were her local naco fans who have a Chicago Gloria Trevi fan club. OMG! They kept chanting throughout the show, had on ridiculous outfits (homemade t-shirts, etc., feathers everwhere). They were scurry! Aftewards, we found a cab and we got drunk on margaritas :)


The weekend was pretty mellow. Chus has a new friend. Around the block from us is a gal that has a Lhasa Apso around Chus's age named Cosita. She let us in to her front yard and the two went to town! They were having so much fun chasing one another. It was so cute. I'll have to set up a playdate :) Later that night we hung out w/ my Milwaukee Sister and did damage at the Virgin Megastore and Tower! Oh no! We ate Pizza, had lousy service, and hung out. It was fun as always.


Sunday did nothing. It was so nice :) I did however watch some movies. Head In The Clouds was alright. And I watched half of a bad Mexican movies called Desnudos. It was very Televisa acting wise if you know what I mean. The only good thing was this hot ass actor in it named Juan Vidal. He looks like a bootleg Charlie Massó!! Yummy! I must find out more about him.


When I come back from Mexico I have to start looking for a new job hardcore! Or maybe even a new career? We'll see. It's not too bad right now. I have to fill out my self-review today, who comes up w/ these things? Hope everyone is well.