I have been so busy at work that I have not had time to update my blog (forgive me I do have a job). Hope you're all well! Every morning I still come in and read all the blogs I have linked here, hoping for updates. So I apologize to those that actually do care about mine. Went to Milwaukee this weekend and did mostly family things. Stopped at Bryant's w/ my cousins and their crazy friends. It was fun. Had Rocky Rococo's :) All is well. Trying to save $$ for my trip to Mexico. If only I didn't have all these bills.

Last night my girl Lluvy got eliminated from Amercia's Next Top Model. She's such a pretty girl but when she's in front of the camera, it just ain't happening. Now that she's gone I still am rooting for Keenyah but now I am really digging Brittany as well. She's just so trashy I can't stand it! So yes my Wed. night is taken, don't you dare call me from 7-8pm!


Last night we also watched Spanglish. I really liked it (though it was über long). I love Paz Vega so it was niec to see her on screen again, and I loves me some Tea Leoni. It was nice to see Cecilia Suarez as well (Mexcian actress in films such as Sexo pudor y lagrimas, Todo el poder, etc.). It came from the director of As Good As It Gets so that must explain why I liked it so much.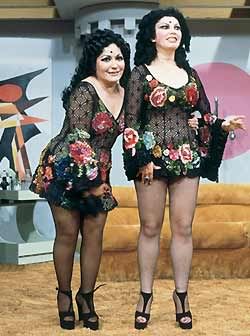 So I had to share this über tacky image I found of Carmen Salinas and Irma Serrano from the 70s (at least I think judging by their outfits). It's trash-a-riffic!!! Thought all you regulars at Quiero ser santa would enjoy it :)


For those of you here in Chicago, one of my favorites is on the cover of the new Chicago Social: Jeremy Piven! Grrrr! I need some alone time w/ my issue.


Not sure if there are any fans of Wild Orchid out there, but my fave of the three ladies, Stefanie Ridel, has just lent her vocals to DJ Rain's song Just Another Day. You can here it here on DJ Rain's myspace page. With all the focus on Stacy 'Fergie' Ferguson since joining the Black Eyed Peas, it's nice to hear something new from Stef.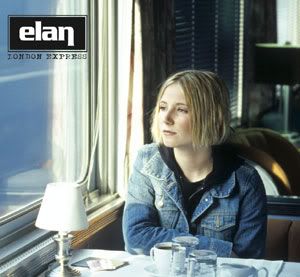 Are you ready?? Elan is finally releasing a follow-up to her masterpiece Street Child!!!!!! They've updated her website and added tons of features. You must check it out. Her new album entitled London Express is available for pre-order on her official online store as well as a new version of Street Child containing a previously unreleased track So Happy (though they've omitted Another Woman in its place). I can not begin to tell you all how excited I am about this new album. Over the past year Elan has become one of my favorite singers and her debut has not left my ipod, cd player, etc. ever. In fact she's the most played artist on my ipod. The album will ship on April 28. Better place my order fast! Talk to you all later.