Today is a special day. Today is
Chus's 2nd birthday!
Happy birthday baby! I remember when we saw an ad in late '04 on
craigslist
that a 7 month old puppy needed a good home. We called, we saw him and I instantly fell for this little mop top :) Here's what he looked like when he first came to live w/ us: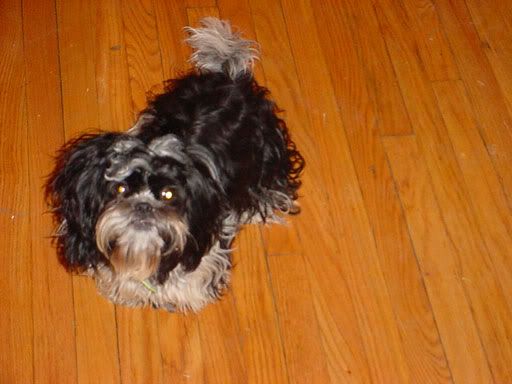 Look at all that fur! How cute! He took to us really fast. We hit a rough patch last spring with his getting sick and needing surgery. He's all better now and today we are celebrating his 2nd birthday! Here's the birthday boy last night at midnight w/ his special present...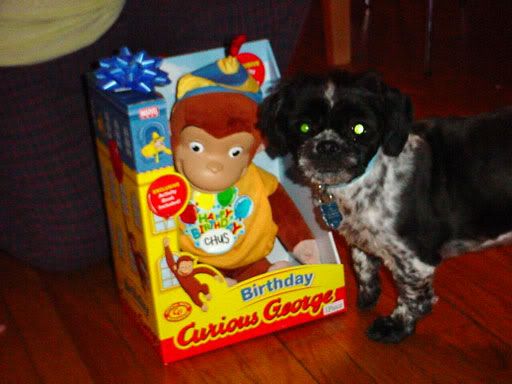 You can also see Chus's new summer 'do! As you can tell he quickly took to his present...
Chus and Curious George are new best friends! It's amazing to me that something that only weighs 14 lbs can give us so much joy. He's such a little character and I am so happy he's part of our family. I still have yet to give him his cake. I found a dog bakery in Lincoln Park called
Galloping Gourmutts
that make all natural dog treats :) I'm sure I'll have some more pics to share later. Everyone wish a happy birthday to our baby!
On a more serious note, I took today off to show my support for the nationwide boycott. Though I am not partaking in the march I am there in spirit. As a child of an immigrant, this subject really hits home for me. To those of you who chose to partake, I commend you.
Another day, another apartment. We have an appointment tonight to see yet another place. Wish us luck!