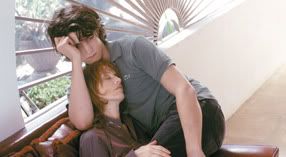 Tonight we are planning on seeing
Ma Mere
. It's playing as part of the Chicago International Film Festival. It's times like this when I am soooo glad I don't live in boring Milwaukee anymore. Anyhoo here is what the film is about:

Seventeen-year-old Pierre's worship of his mother Hélène (Isabelle Huppert) intensifies in disquieting ways as she introduces him to a world of forbidden desire in this coiled spring of tense sexuality, based on the taboo-shattering novel by surrealist Georges Bataille. The brooding Pierre (The Dreamers star, Louis Garrel) drifts uncertainly between the roles of victim and provocateur, as Hélène gleefully procures a bevy of sexual offerings to indulge his appetites to gross excess. Revealing a sordid underworld of almost ritualized lust lying just beneath society's plastic façade, Hélène demonstrates her own sexual addiction to Pierre, hoping to provoke revulsion and disgust rather than blind devotion... but her startling revelations only fuel his perverse obsession. Fans of Huppert's astonishing performances in erotically charged films such as The Piano Teacher and School of Flesh will not want to miss this bold offering.


Pretty sick huh? Can't wait! It's also playing Wed. and Thursday (closing night of the festival). I'll let you all know how it is. I would have liked to see some other films this year as well, but we've been so busy. I must get back to work. Did I mention I still would like a new job? Lol. Laters.