So this weekend was my first without my boo boo. It was hard but I got through it. We called each other constantly. In some ways I think it was good because we both needed some space. But on the other hand it's hard because you are so used to having the other person attached to your hip. We spoke every chance we could. I did get to go out w/ some friends while in town and check out this new bar
Art Bar
which was really cool and of course the obligatory visit to
Bryant's
. The whole purpose of the weekend's visit was to help out w/ the show that my parents put on at the Pabst Theater in Milwaukee, WI. The night's event was a tribute to Mexican composer
Agustín Lara
. It was a beautiful show and many talented people contributed their time and effort to help make the night a success. The performers were incredible and I was highly impressed w/
Beatriz Montes
both as a performer and as an individual. She was a sweetheart and I am sure we'll be hearing good things from her in the future. Of note she also peformed my favorite Agustín Lara song of all-time,
Piensa en mí
. Below is a collage of photos from the show, backstage, onstage, after, etc.

So our reunion Sunday was great because I didn't even tell Rob when I was coming in and I surprised him w/ my early arrival. After having breakfast w/ my Garrota I stopped by Kopps and picked up burgers. Milwaukee should be known for their burgers as well because they are the size of a frizbee! He was quite pleased w/ his burger for he was full for the rest of the day, as was I. In the evening we stopped at Tower (but of course) and then Jamba Juice. Yummy. I made it home in time for Desperate Housewives. OMG this is my new show! I know it's just started, but it's off to a very good beginning. It's trashy, yet smart, fun and addicting. The cast is great as well. I have a new Sunday show to watch.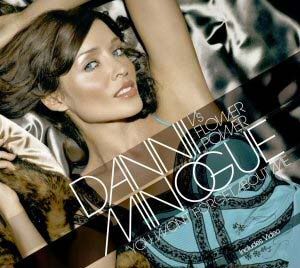 Before I forget here is the cover of the new Dannii Minogue single You Won't Forget About Me! Doesn't she look hot? I had planned on writing yesterday but things got hectic here at work. Uff! Went for Indian food last night and I picked up a used cd for $2.99 by Lauren Christy called Breed. So far me likes. Work is calling and so is lunch! Have a good day everyone!