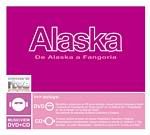 So I had heard about this but now I've finally seen the tracklist, and I think I just wet myself!!!
EMI Spain
is releasing a CD/DVD collection called
Alaska: De Alaska a Fangoria
!!!!!! It spans her period w/ los Pegamoides through the early days of Fangoria. Jesus Christ!!! There will be 20 songs digitally remastered including:
Ni tú ni nadie, Bailando, Descóngelate, Abracadabra
just to name a few. Of course it will include
the
gay classic
¿A quién le importa?
(not to be confused with that crap version that c*nt Thalía spewed on impressionable queens...I want to throw up everytime I hear it). Back to Alaska :) The DVD (thank God I have a region free DVD player) will include 29 performaces/videos many from TVE (aka
Televisión Española
). It comes out next week Monday in Spain. OMG!!!
Discoweb
here I come; I don't care how much the shipping is! I suppose I should clean myself up now.