So today we are going to go see
Donna Summer
for free at the Taste of Chicago. Should be fun as both
Rob
and
Eddie
are such big fans. I've never really gotten into her. I'm hoping this show she'll win me over, because I've been jamming out to her the past few days in preperation for the show. Should be fun! I think it's time I make a Donna Summer mix on my ipod. Hmmm...I think I'll start off w/ her SAW comeback
This Time I Know It's For Real
. BTW Sista M is back from Puerto Rico and he brought Rob and I
Iris Chacón
cd's! Yeah! Sorry you had to miss pride. There's always Market Days!

The above photo was taken of me when I was 19 months old when we lived in Torreón, Coahuila México. I love my swanky top! I notice that so many people post baby pics, so I figured...what the heck! Finally have a working scanner at home so I am sure you'll all be seeing more.


So this weekend I visited my mom before she leaves for a 2 week trip to Mexico. We went to Potawatomi. Holy crap is that place crazy! People are so into it. If you ever go, go up to the non-smoking section, it's a much more pleasant experience. I won $60 btw :) So since I took Chus along *who was such a good boy on the way there and back* we met up w/ Garrota and her baby! Here is a pic! They had so much fun together. Even if half the time Bili was trying to rape Chus! Oh no!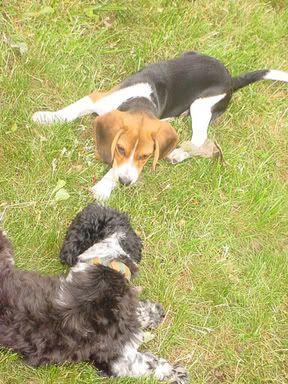 So I started watching Rebelde. I don't know what it is about cheesy teen soaps that suck me in? It's pretty awful and the characters have to be the most annoying but I can't stop watching. It's been 2 days and I'm already hooked? Uff! I already told you how annoying Anahí is...but that ugly blonde kid. Giovanni...eeeew! The other day I wanted to slap him. I think what gets me is all the cheesy English-language sayings they like to add...Es que soy un loser. Ha ha ha!


I can't think if there is anything else I needed to write about. Hmmm...oh well, if I get bored again I will write some more. Ciao for now!


mE.