I am still awaiting to hear from the clinic to find out if
Chus
can come home today. Cross your fingers. Rather than sit here and twiddle my thumbs, I figured I would catch up on my blogging.

Can I just tell you how disgusted I am w/ the weather? I H A T E summer! Hate it! Hate it! Hate it!!!!!!! I just can't stand the muggy, sticky, nasty heat. I know there are probably some of you who think I am on crack, i'd take a 10 below zero day over a 90º day! To think it's just starting. Can't it just be fall everyday? How I miss cool nights, sweaters, rain, etc. I think it's time to look into Seattle.


So w/ all that happened to Chus recently I never got around to talking about Memorial Day weekend. As I mentioned previously my cousins from Milwaukee came up. We had lunch at Café Ibérico and had tons of yummy Sangría! My God those girls have livers of iron! They didn't even get a buzz from the fabulous mango and strawberry margaritas! We went to my favorite Mexican restaurant, Puebla, and my Milwaukee Sister and I got super trashed...super fast! OMG it was hilarious. Don't ask me how many times we sang Dookie Shoot at the table. Oh but the fun's just begun! They have karaoke on the weekends, and usually you have to listen to some 40+ year old warble some José José hit or some queen and his fag hag sing Selena. Well since Eddie and I were sooooo shitfaced, we were like "if they have LIPSTICK we should sing it". So Rob, who was probably also tipsy, went up to find out if they had it. Well they did! After waiting forever, and drinking more to get enough courage to sing in front of a restaurant full of strangers....it was finally our turn. After laughing uncontrolably for about the first verse, I joined my Milwaukee Sister in our ultimate moment of fierceness. It was hilarious!!! Some nasty Juan Gabriel looking queen came up and started gyrating us (as you'll see in the pics below). It was too funny! I think that was the gayest moment that restaurant has ever seen. I can't wait to go back! Now for your viewing pleasure...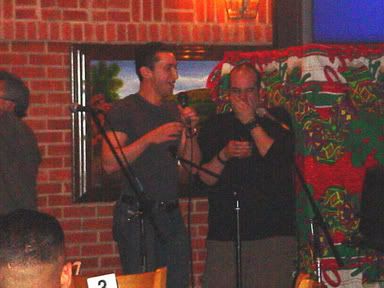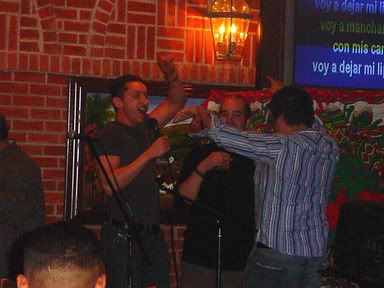 Six Feet Under began Monday. Unfortunately we don't have cable anymore so Janet was nice enough to let us watch it at her place. Can't believe it's ending. Sniff sniff. Not much else is really going on. A trip to Milwaukee on Saturday is pending. We were gonna go to PrideFest in Milwaukee to go see Taylor Dayne and RuPaul. I was really looking forward to it...but in all honesty I don't think I will be able to leave Chus alone even if it's only for a few hours. My poor baby needs me to care for him. So looks like it will be a blockbuster night...err netflix night I should say. Who goes to Blockbuster anymore?


All right I must stop for now as I actually have work to do today!!!