So as I mentioned yesterday was Alaska's bday, so I listend to lots and lots of her music. I was bored and took a picture of my Alaska CD Wall. What a dork, I know! Amuse me. Since it's been forever since I posted a song for you all I'm sharing a cool cover that Fangoria did w/ Victor Coyote. It's a cover of Gloria Trevi's Amor apache!!! It's wicked. Here it is!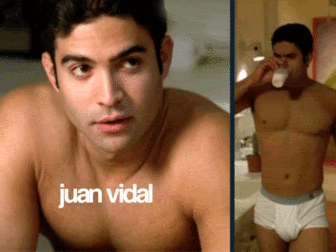 So remember how I was going on and on about this hot new actor, Juan Vidal in that bad Mexican movie Desnudos? Well I obtained some hunky pics of him from the movie and just had to share w/ you all. Enjoy!


I have a huge announcement to make. For those of you who read my blog regularly (humor me I know someone must!)...I am sure you have seen me utter the words Milwaukee Sister on many an occasion. Well the fiercest bitch I know has decided it's time he start his own blog! Oh no! I can't wait! You have all been warned, starting July 1st my Hermana de Milwaukee will have his own fierce blog! So in anticipation, I've created this little coming attraction for you all. Remember: bookmark it now...Chicago Sexbox!!! Time to change my Cotex Sista M!