it is probably 55º outside right now. i could not be happier. i
hate
summer. it's august 12th and it's so lovely out right now. normally it's like 80º + but for some freakish reason it's been so cold outside. ahh...i love it. can't it be fall all the time? sweaters forever!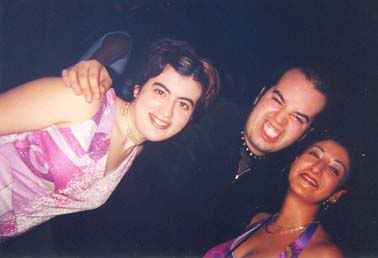 my good friend la garrota emailed this to me today. blast from the past! i think this photo is probably from when i first moved to chicago. here i am w/ my good friends bertha (aka new mommy...congrats!!!!) and my partner in crime, martha (aka la garrota). check out my rockero threads! eyeliner and spikes galore! good times. i would like to publically take this moment to thank garrota for being such a good friend to me. our friendship pretty much blossomed over countless emails and now we are one another's confidants. if anything's happened to me (good or bad), la garrota knows about it. te quiero mucho. ¡besos!


alejandra guzmán is tomorrow! woo hoo! it's been awhile since i saw her. the last few times she came (or cancelled i should say) i was broke. so thanks to sr. jorgillo for funding our concert experience. can't wait. she's so much fun live. i wish my milwaukee sister could go so we can do our best lipstick rendition.


song of the day: si no te has ido, vete by alejandra guzmán. in honor of her show tomorrow i've picked my current fave ale song. this one is a great kiss-off song from her 1999 release algo natural. i just love the mellow vibe of the music, and her heartfelt vocals. it's just a wonderful song. it's an under appreciated gem if there ever was one. ¡viva ale!