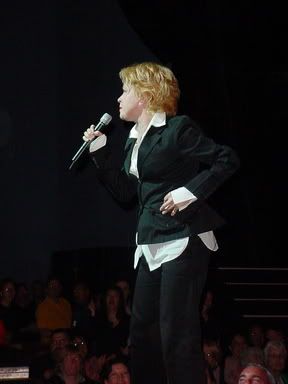 so last night was the cyndi lauper concert. wow! once again this woman amazed me. she was a little under the weather, but that didn't stop her from giving a killer performance. no cameras were allowed but i took mine anyway and managed to get this shot for you all. we had 4th row tickets. excellent seats! i love ebay. my only complaint was the evil lesbian security guard who continued to shine her flashlight at me and others in our area repeatedly. it did not allow us to really enjoy ourselves for the first couple of songs. we'll have to send a letter of complaint. anyway...getting back to la lauper. she did a great set. faves like change of heart, i drove all night, money changes everything, at last, stay, shine, sisters of avalon, etc. but there were two highlights of the night. she spoke briefly about the full-length relase of shine. rob turns to me and says wouldn't it be great if she did eventually? well what did cyndi do? she did eventually!!! rob and i were screaming like crazy and cyndi gave the cutest smirk. she also mentioned that that album will see the light of day (it has only been released in japan other than the ep that was released here in the US). one of the best moments of the night was her rendition of true colors. i've heard her sing it before and the story behind it being dedicated to her friend who passed away from aids in 1985. but something about the way she told the story last night just brought me to tears. i looked over at rob and just thought how lucky i was to have him. she conitinued to talk about her gay sibling and how she believes in civil rights for everyone. she sang the song beautifully while draped in a gay pride flag. last night's performance once again cemented my love for cyndi. she got several standing ovations. what an artist she is.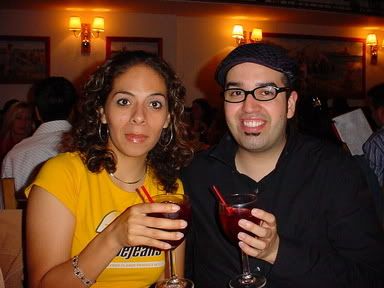 our night out w/ my cousin was a blast. we picked her up around 7ish. we then headed on over to our destination for the evening, café ibérico. how did we not even touch our glasses of water? instead we drank 2 pitchers of sangría and ate lots of tapas. janeth enjoyed it. we were all a bit tipsy and then headed over to berlin. was rather dead so we then went to spin. my cousin's first gay club. she loved it. the music. there was even a tacky shower contest. so then back to berlin. some weird performance artist who thought he was the male peaches (no one can touch ms. peaches) was on stage. i think his name was bernard houston. anyhoo it was rather interesting. from there we went to a straight club in logan square. it was hot but we had fun. we danced reggaeton, merengue and salsa. we got home around 4ish. so needless to say we slept in.


in other news we finally went cd shopping yesterday! we had been depriving ourselves do to our budgets. so i found the new ely guerra import sweet & sour, hot y spicy (i haven't listened to it properly yet...but it's ely my biach!!), a new compilation of lucero's old musart (her first label; mind u this stuff has never seen the light of day on CD) material from the early 80's when she was still lucerito as well as best ofs by lola beltrán and olga guillot. anyhoo we're off to go back and get some cd's i put on hold. til later. ciao ciao.