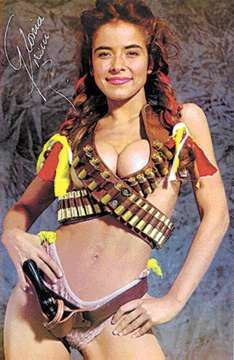 when i was 15 a singer from mexico took my teen years by storm. her name
gloria trevi
. she was loud, obnoxious, in-your-face, bold, you name it. funny thing is behind all the
image
there was a killer voice. many people wrote her off as a, oh i don't know,
mexican cyndi lauper
. someone w/ real talent, whose image unfortunately overshadowed it no matter how great it was. anyhoo she got involved in that scandal w/ her manager, blah blah. i won't bore u all w/ the details. i just wanna know when the hell are they gonna let gloria out of jail?

anyhoo....i am still learning about blogs and the special html they require. granted i am a graphic designer by trade, i just don't really deal w/ web design...so my skills are limited. i know what i want it to look like, i just need someone to do it for me. one of these days. for the mean time i have to use these preformatted templateds blogspot provides us. before i forget, a special thanks to high camp for helping me figure out how the hell to add links, etc. to my sidebar.


in other news i got a hold of my cousin janeth who is visiting from durango (mexico). we are gonna head on down to my favorite tapas bar café ibérico friday night for a sangría overdose! what fun!