So last night on my way home I got stuck on the train,
again
! It took me an hour to go home on the
Orange
line! Can we move already? This week is draggin'. I think it's because I am so anxious to move out already. If it were up to me, I would have brought everything the night we signed our lease. This weekend we are gonna get started taking stuff over. Woo hoo!

Before I go on, I have a special birthday message to my Soul Sista, aka Lambchop, La princesa polaca, etc.:


I have a plea to all of you out there in blogger-land! Does ANYONE have an mp3 of Hide & Seek by Pajama Party. I need it! Bad! Look at that hair! I have been on a freestyle fix this past year for some reason and now I must find this song. This CD goes for $$ on ebay, etc. Maybe I'll just break down and buy it for my birthday. In the meantime if any of you have it could ya share? Thanks!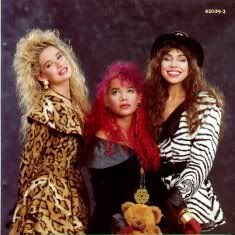 Song of the day: The Lover Who Rocks You-India