Weekend was hectic, which is expected when you're in the middle of moving. Here is my weekend rundown:

Friday: I skipped the company xmas party. Had no desire to go. Apparently one of my friends at work got so sh*tfaced she told one of the presidents of the company that everyone thinks he's a dirty old man. God I wish I could have seen that! In my absence I won a door prize! My first time in 5 years! An electric blanket. Aww Yeah! That will come in handy since our current place has the a draft that's bigger that Tara Reid's nipple scar. Later that evening we went to Lola's with my Milwaukee Sister Eddie and eventually Jorge. The show was rather somber. I think someone they were friends with passed away, something like that. I don't remember I was too busy downing Long Island Ice Teas. My fave drunk moment of the night was when I tasted Jorge's drink. Eddie pointed out to me in his equally drunken demeanor that it was some stranger's drink. Oh no!


Saturday: What did we do? Duh! We had to be up and out before 1pm because my landlord had a showing of our place. So I made Rob go with me to put the dining room table on layaway. I am so excited I found my stainless steel table! It's gonna look swanky. We had greasy pizza that was the b-omb. Can't remember from where, somewhere near Affordable Portables. We finally started to take some boxes over to our new place. About 6 or so (whatever could fit in the car). Took some measurements (don't want to go buy furniture and realize it's too big or too small). Stayed in and made Rob finally watch my favorite movie of all-time, Heathers.


Sunday: No Maxwell St. this time. Gasp you say? Didn't have time I had to run errands. Green tortillas are rather hard to find for some reason. Finally tracked some down and we made wraps for my xmas party for my department at work. At the agency I work it we unfortunately have to do all the print advertising for Sears. Dread. So our goal was to find a $10 gift from Sears. It was a hoot. I got a pool stick. What I am gonna do w/ it? I have no idea. I think I amy turn it into a coatrack. Can we talk about how good Desperate Housewives is?? I did not want it to end! I love that show! When Luis got arrested, I was soooo not expecting that.


Don't forget Wed. is the series finale of America's Next Top Model! I am not really excited about the three finalists. But this show is so catty and campy that I can't get enough of it!


Must continue w/ moving crap. We've started to pick out colors for our place. Avacado green for the living room, an orange/red for the dining room and a blue for the master bedroom. Rob is gonna paint his room purple. Oooh. Anyhoo I have a huge announcement....


We got a dog!!!! We had been looking for a puppy and we went to see a puppy last week. Long story short, the woman's husband got laid off and they needed to find a new home for it. She called said she liked us the best and wanted to know if we were still interested. OMG! I am so excited!!! The best thing is he's only 7 months, so he's still young, he's trained, he's been fixed. He is the cutest thing! He's a black shi zhu and is the cutest, sweetest thing. I am so excited!


Now that I got my big news out, we watched the Jennifer López episode of South Park! Hilarious! I am too excited about the puppy so I can't write anymore. Lol...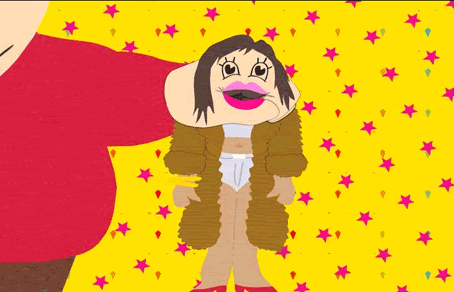 Edit: I almost forgot to mention that we won't be getting the puppy until after the New Year. That's what we agreed on since we'll be all moved in by then :)