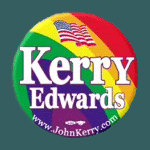 i have a sore throat. i've been busy at work, so i haven't really been able to write much these last two days. i really hope it goes away soon because i have to go to milwaukee this weekend. my comadre paloma is graduating from the police academy and the other comadre is baptizing her newborn. ahhh!! plus i HAVE to go to bryants. bryants is the coolest place in north america. who would have thought the coolest bar ever would be in milwaukee, wi? i thought i would post this image to support the
kerry
campaign. anything to get that twat out of office! why on earth would anyone vote for this man? apparently my sister is, and her homophobe boyfriend.
in other news america's next top model premieres september 22!! let the bitch-fest begin. i've posted my fave from last year who did not win, sara, but the girl that won was a great choice. but i must say a girl of colour must win this year!

i just felt the need to post a picture of my current crush mark ruffalo. sigh. i even rented 13 going on 30, it was pretty dumb, but seeing mark was worth it!


song of the day walk away alanis